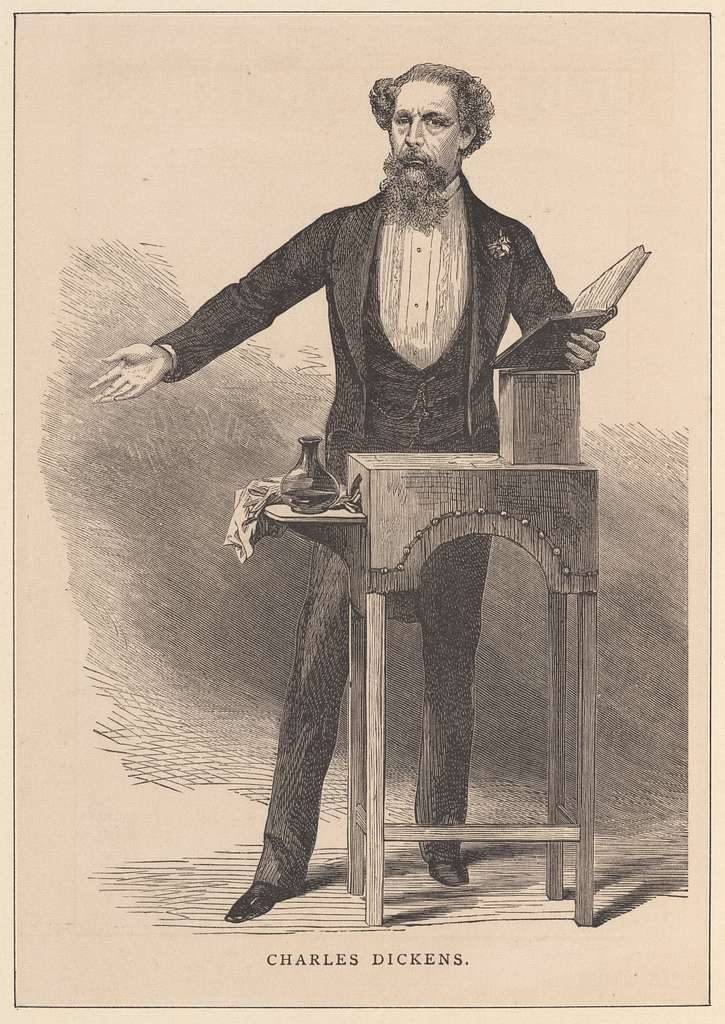 It is often mentioned that Charles Dickens valued his visit to Lowell in February 1842 more than any other location he visited in the United States. Dickens was celebrating his success of the Pickwick Papers and The Adventures of Oliver Twist when he arrived in Boston and later made is way to the mill city of Lowell, Massachusetts. So impressed with Lowell as he was, Dickens dedicated an entire chapter of this travelogue, American Notes for General Circulation, Volume 1 [see UMass Lowell's Libguide on the topic] to our city. "I assign a separated chapter to this visit; not because I am about to describe it at any great length, but because I remember it as a thing by itself, and am desirous that my readers should do the same."
Dickens was struck by the newness of the city, but also the ways in which the mills operated, how the mill owners housed their workers, and by the famous mill girls as well. "I went over several of these; such as a woollen factory, a carpet factory, and a cotton factory: examined them in every part; and saw them in their ordinary working aspect, with no preparation of any kind, or departure from their ordinary everyday proceedings. I may add that I am well acquainted with our manufacturing towns in England, and have visited many mills in Manchester and elsewhere in the same manner. I happened to arrive at the first factory just as the dinner hour was over, and the girls were returning to their work; indeed the stairs of the mill were thronged with them as I ascended. They were all well dressed, but not to my thinking above their condition; for I like to see the humbler classes of society careful of their dress and appearance, and even, if they please, decorated with such little trinkets as come within the compass of their means."
The mill girls seemed to capture his attention most of all and was excited to share surprising facts with his readers: "I am now going to state three facts, which will startle a large class of readers on this side of the Atlantic, very much. Firstly, there is a joint-stock piano in a great many of the boarding-houses. Secondly, nearly all these young ladies subscribe to circulating libraries. Thirdly, they have got up among themselves a periodical called The Lowell Offering, 'A repository of original articles, written exclusively by females actively employed in the mills,'—which is duly printed, published, and sold; and whereof I brought away from Lowell four hundred good solid pages, which I have read from beginning to end."
Dickens' infatuation with the writing of the mill girls was something that he shared with others, acknowledging that their writing was on par with other literature with whom he was acquainted – "Of the merits of the Lowell Offering as a literary production, I will only observe, putting entirely out of sight the fact of the articles having been written by these girls after the arduous labours of the day, that it will compare advantageously with a great many English Annuals. It is pleasant to find that many of its Tales are of the Mills and of those who work in them; that they inculcate habits of self-denial and contentment, and teach good doctrines of enlarged benevolence. A strong feeling for the beauties of nature, as displayed in the solitudes the writers have left at home, breathes through its pages like wholesome village air; and though a circulating library is a favourable school for the study of such topics, it has very scant allusion to fine clothes, fine marriages, fine houses, or fine life. Some persons might object to the papers being signed occasionally with rather fine names, but this is an American fashion."
It is this respect for Lowell that many believe is a reason that Dickens' A Christmas Carol was inspired in part by Lowell and/or the mill girls. Natalie McKnight and Chelsea Bray wrote an essay entitled "Dickens, the Lowell Mill Girls, and the Making of A Christmas Carol" which appears in the book, Dickens and Massachusetts: The Lasting Legacy of the Commonwealth Visits, edited by Diana C. Archibald and Joel J. Brattin. This book can be borrowed from the Pollard Memorial Library in Lowell.
So, what exactly is the Lowell Offering?
The Lowell Offering was a monthly pamphlet of contributed works of poetry and fiction, written by female textile workers in Lowell, Massachusetts. The first edition appeared in 1840 and ran until 1845. Initially organized by Reverend Able Charles Thomas, a pastor of the First Universalist Church, the articles from October 1840 to March 1841 consisted of articles contributed by local improvement groups and literary societies. In later years, it expanded its scope and received more contributions from local textile workers, including poems, ballads, essays, fiction and more. At times, their writing expressed the conditions and situations that they faced in their lives. Some even talked about labor issues in the factories, including organizing for rights and the issues of despair and self-harm among the workers. Well known writers, at times publishing under pen names, included Lucy Larcom, Betsey Guppy Chamberlain, Harriet Farley, and Harriet Hanson Robinson, but many other textile workers contributed to the Lowell Offering as well. After a 3-year hiatus, the magazine was revived as the New England Offering, accepting writings from women throughout New England and lasted until 1850.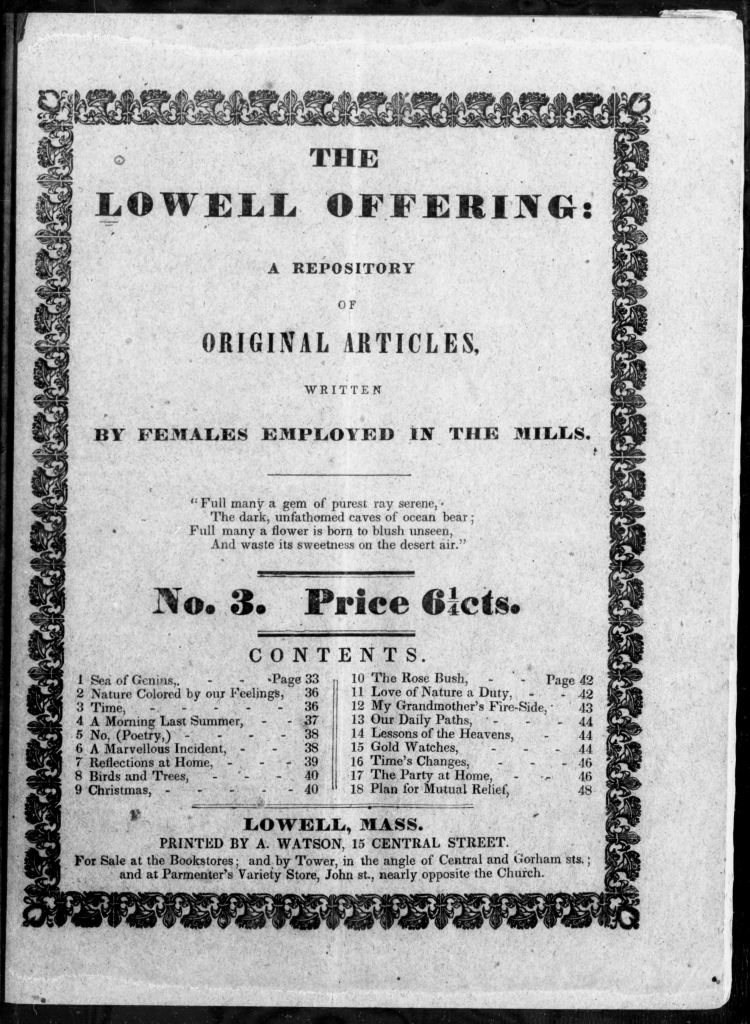 With over 400 pages of writings, is it possible that some of the stories' themes overlap with A Christmas Carol? Yes, of course. Below you will find a selection of writings by various women identified by either their pen name or their actual names and you can decide whether these very literary textile workers may have had a hand in helping to create one of the most lasting pieces of literature that has been adapted hundreds of times, not only in book form, but also in the theater, film, television shows, opera, ballet, graphic novels, comics, and so much more.
Writings by Dorothea – no mention of Dorothea's actual identity has been found in writings of the past
The Blessings of Memory – October 1840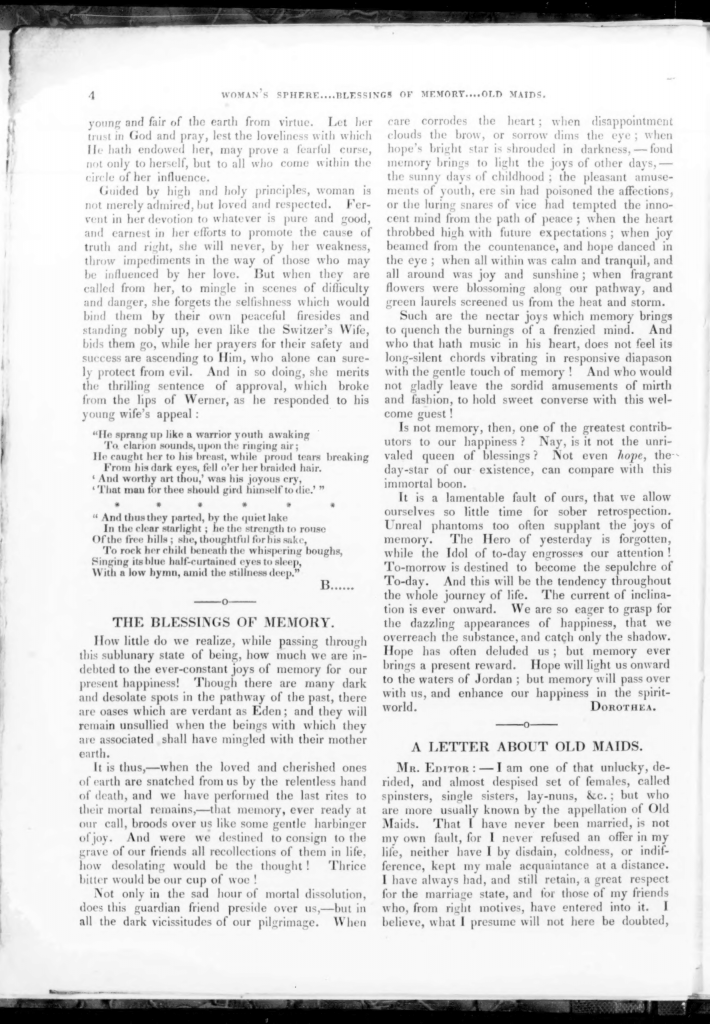 Contentment – December 1840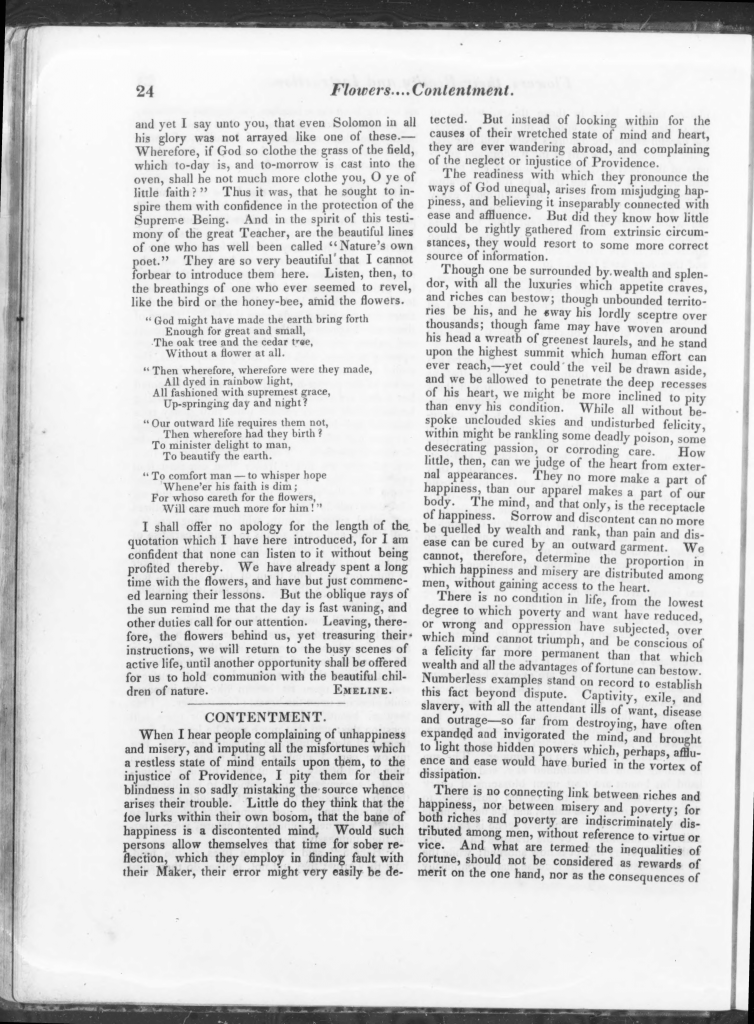 Reflections at Home – A Visit to My Kindred and Friends – February 1841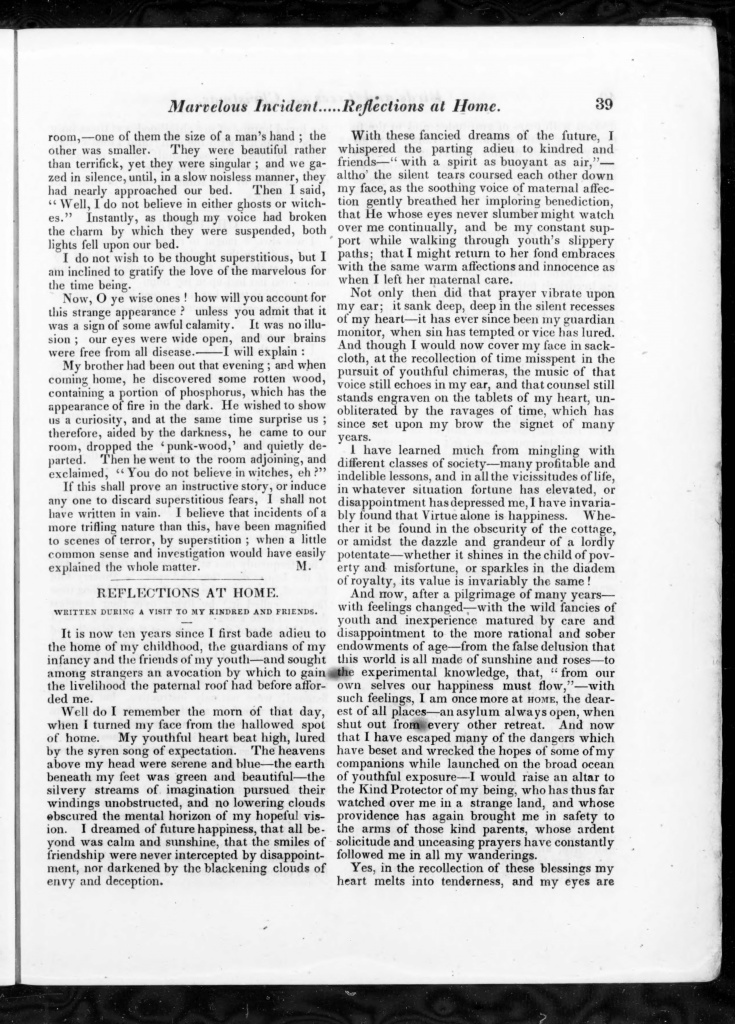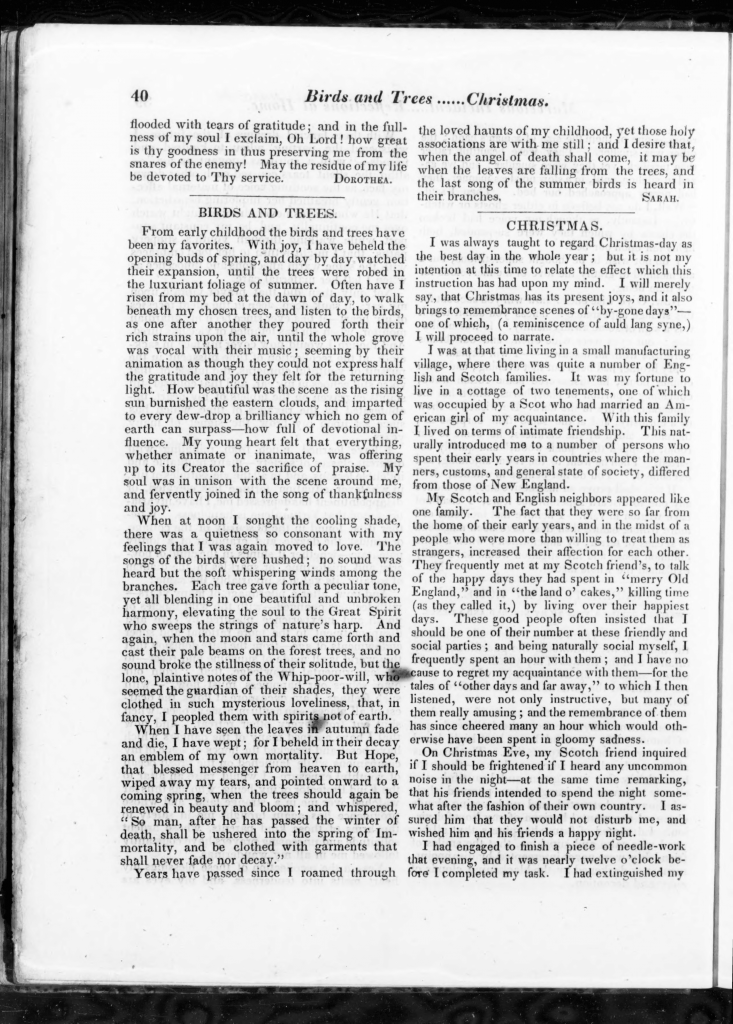 Writing by E.S. – possibly E.S. Pope
Beauty and Wealth – October 1840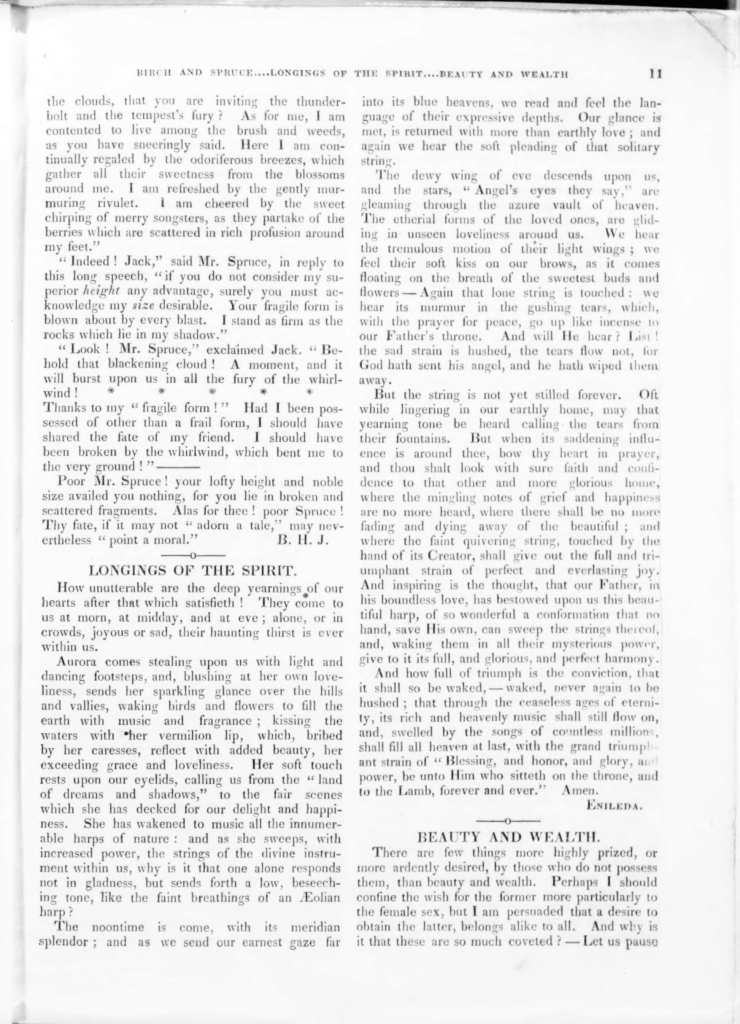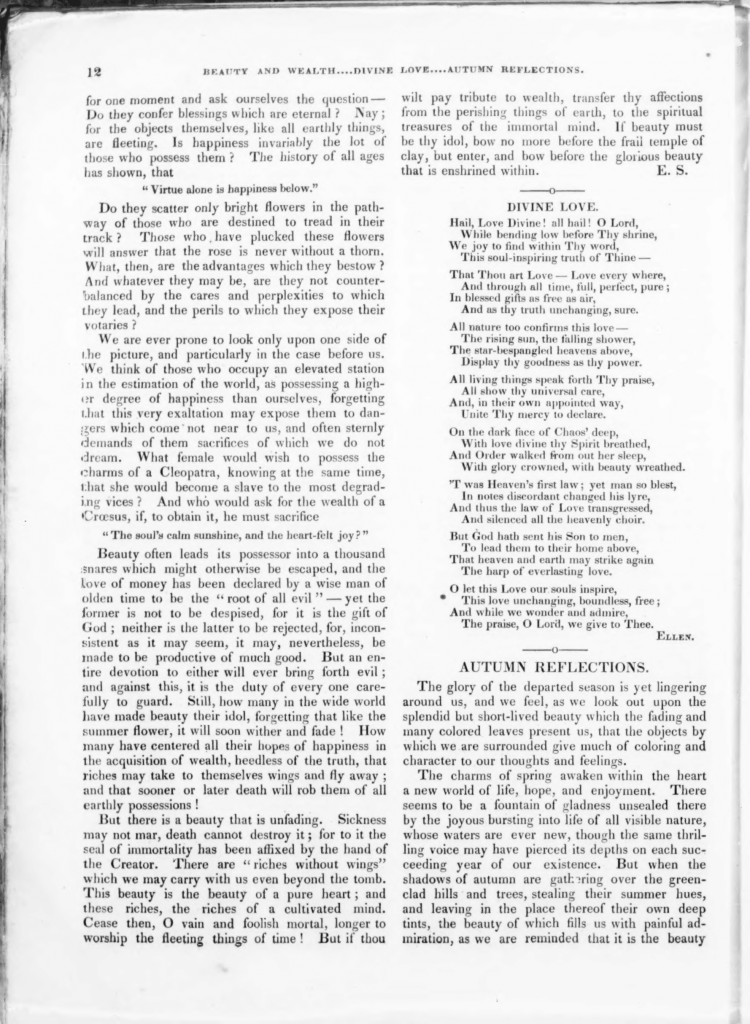 Writing by Mariette – unidentified
Nature of Man – December 1840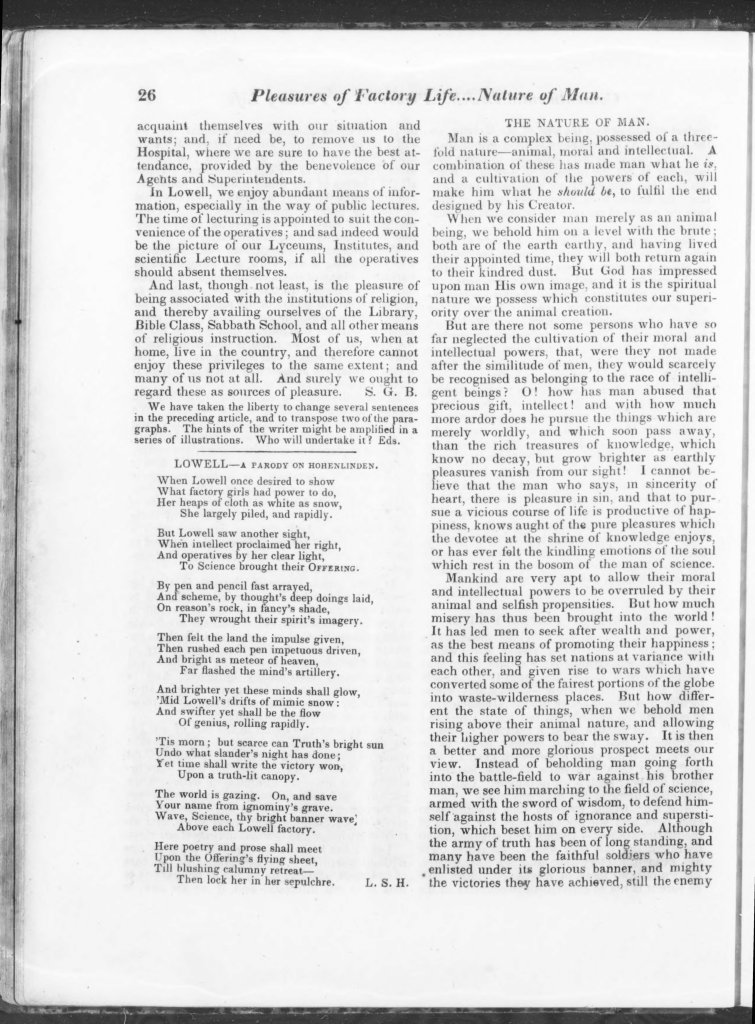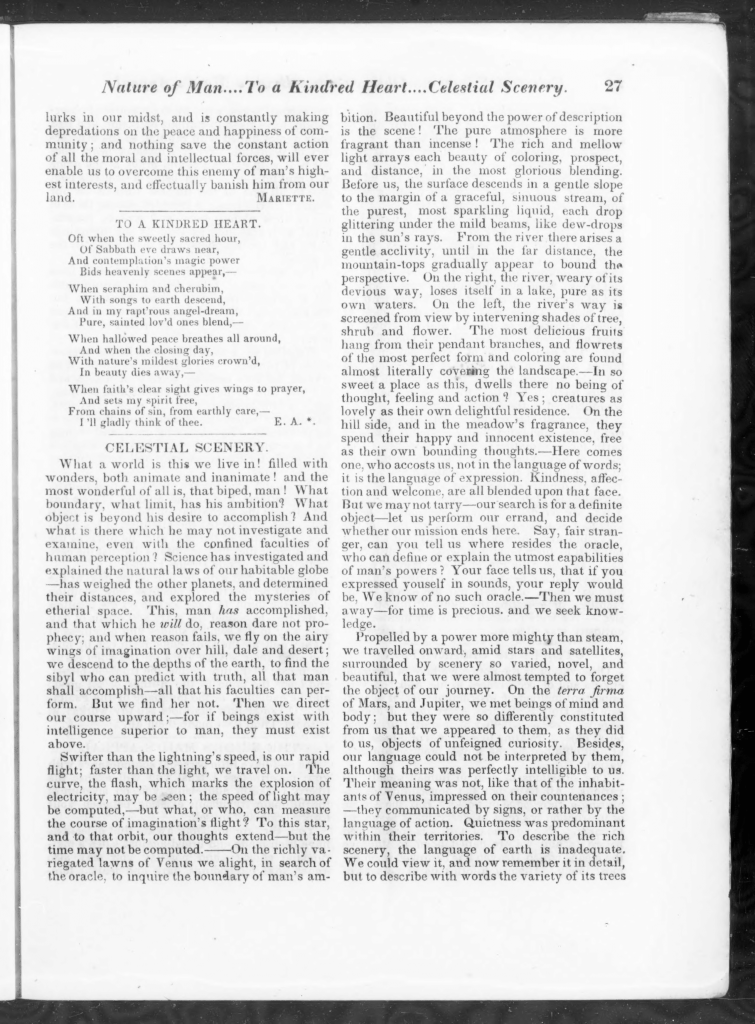 Writing by Caroline –Emmeline A. Larcom, Lucy's sister, who later married Rev. George Spaulding
Happiness – May 1841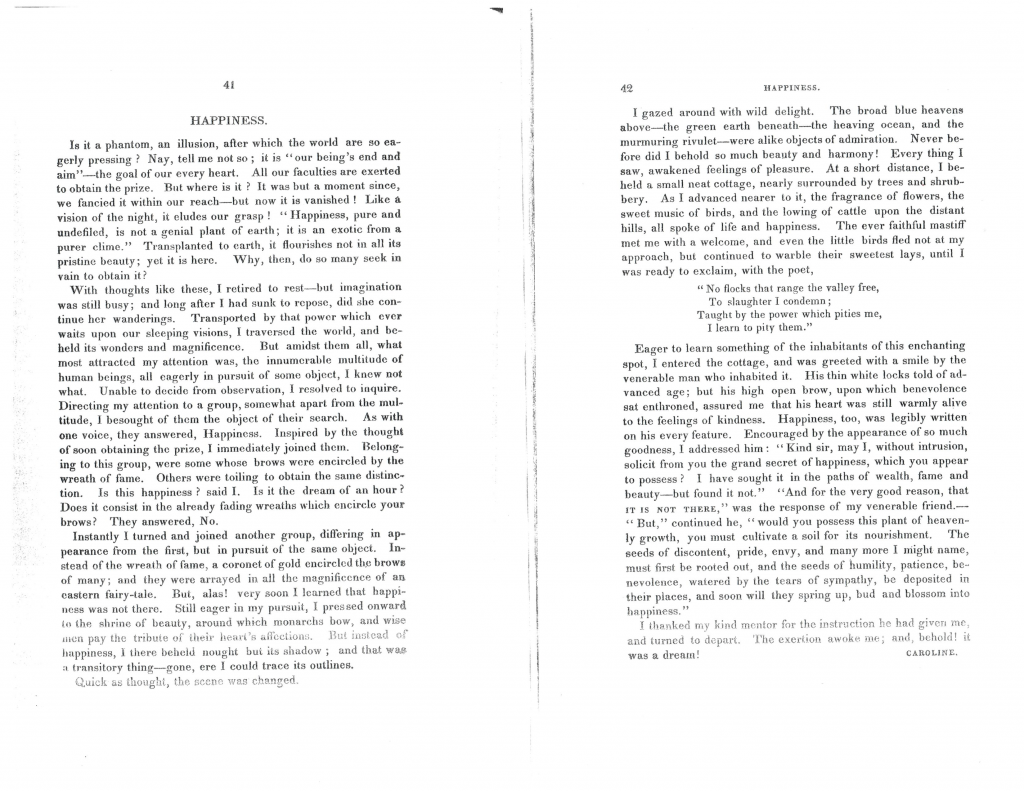 Writing by H – unidentified
A Visit from Hope – April 1841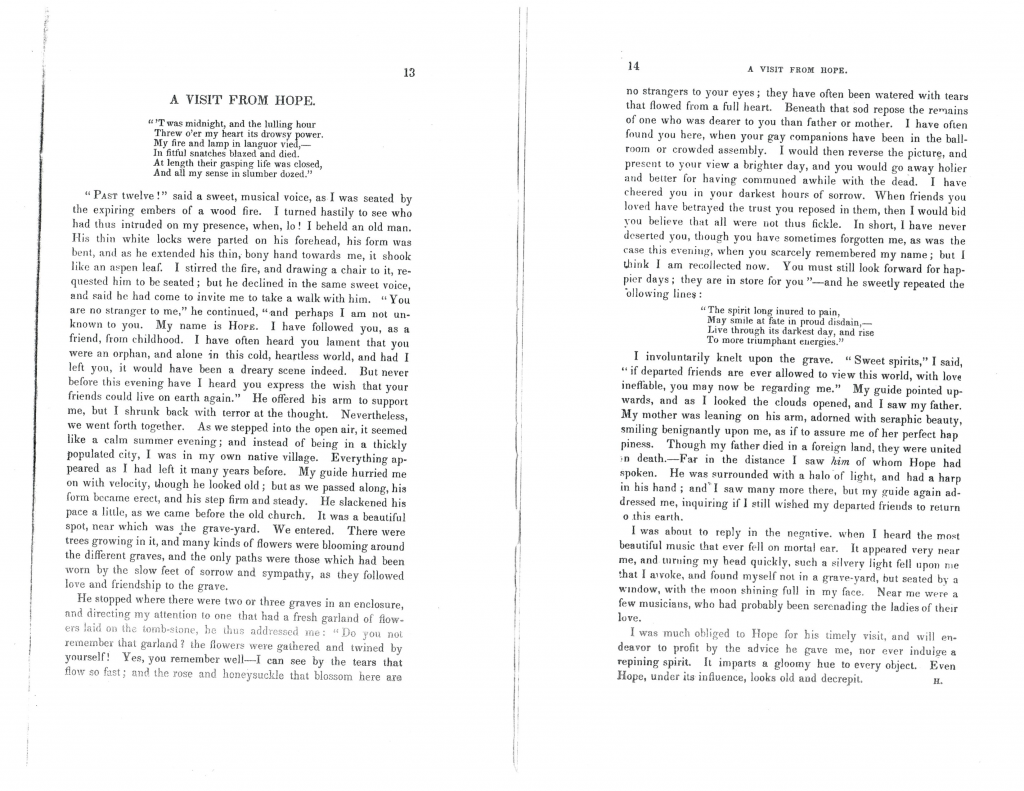 Writing by Frances – unidentified
Hope and Despair – late 1841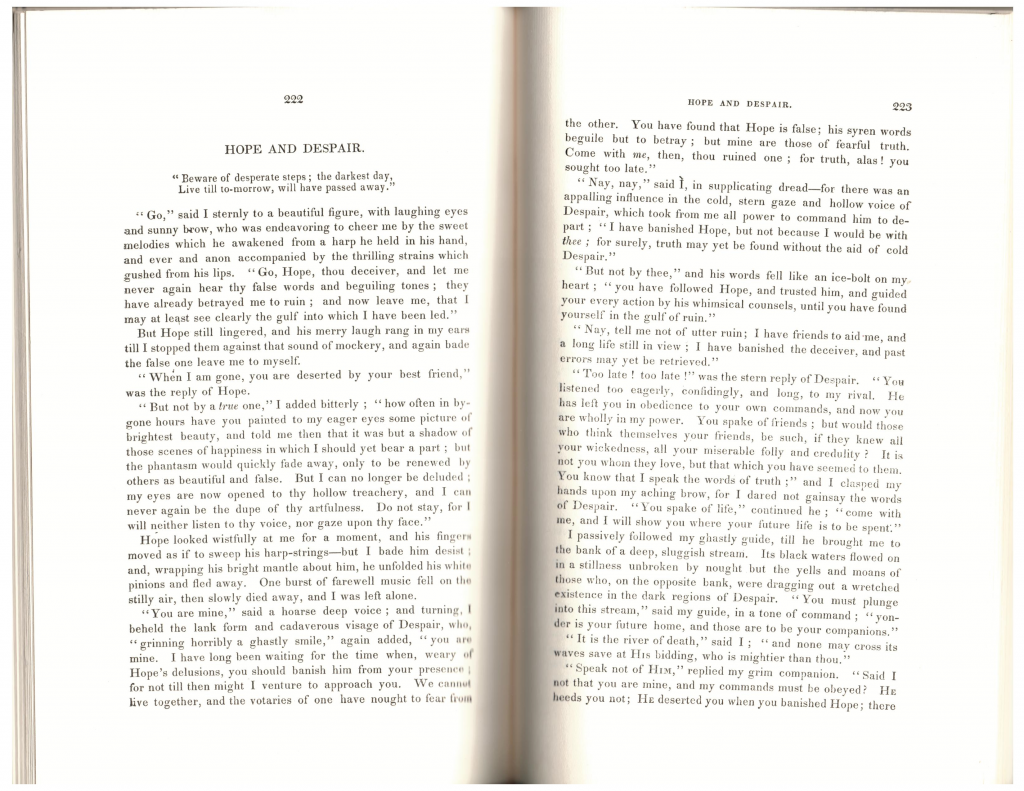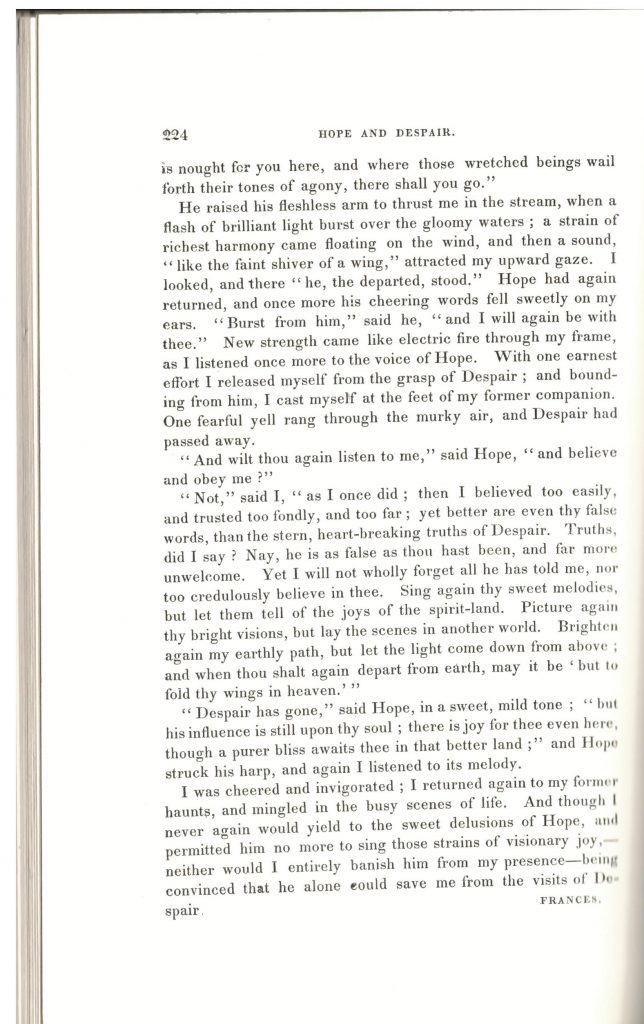 Writings by Tabitha – actually Betsey Chamberlain
A Vision of Truth – May 1841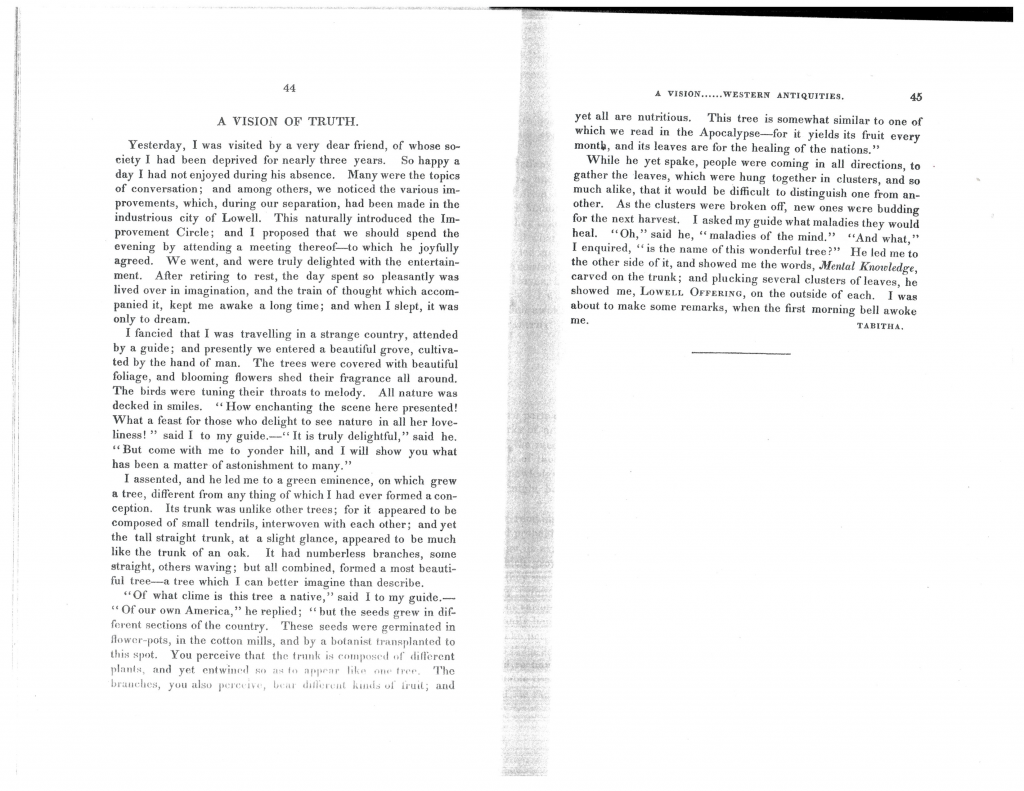 Christmas – February 1841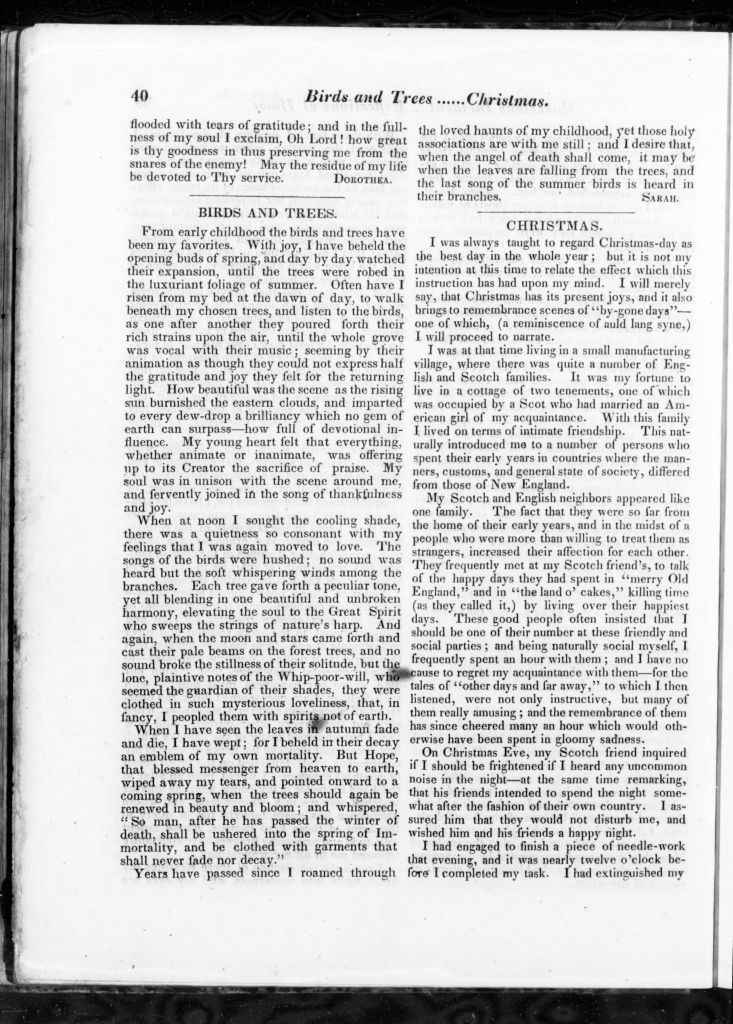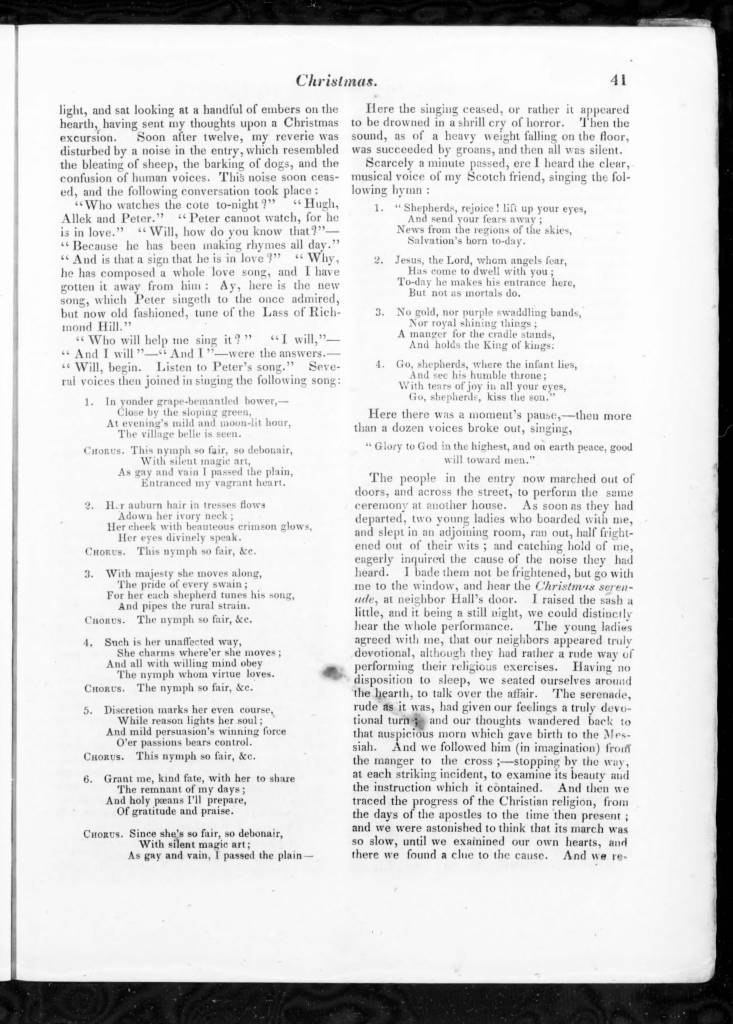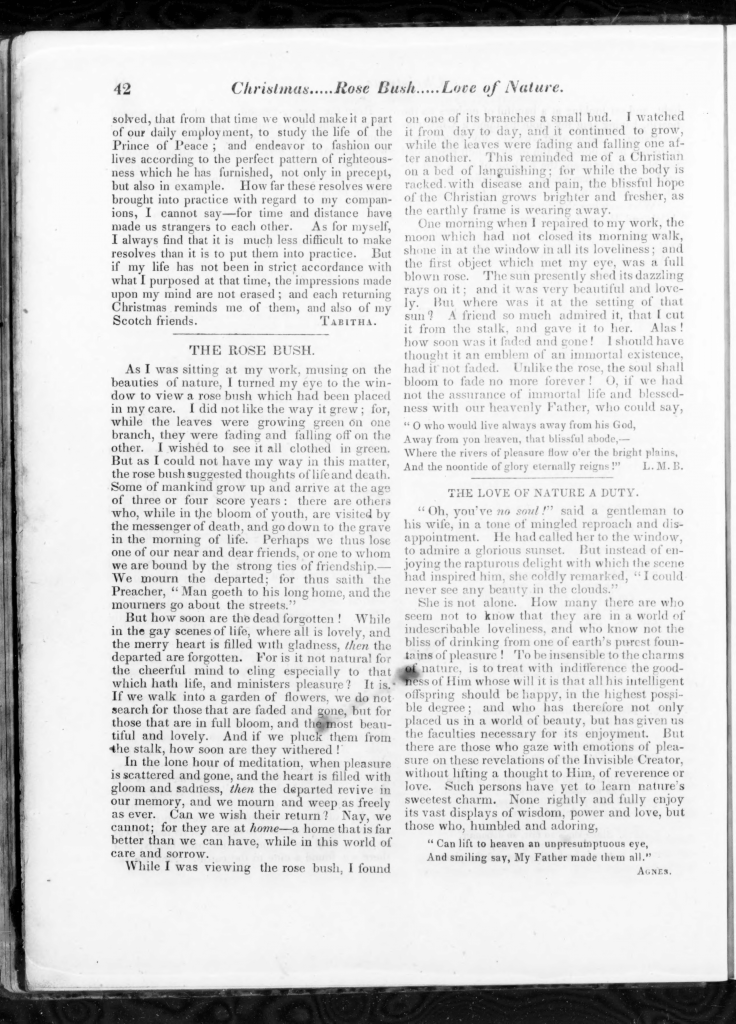 The themes of humanity, recognition that money does not equal happiness, and the richest people are those who are surrounded by loved ones are especially poignant during this time of year. Celebrating each other and helping those in need are so important to remember. Upon reading the writings from the Lowell Offering, do you think that perhaps Charles Dickens' was inspired by our female Lowellian textile workers to create essential holiday characters and story, A Christmas Carol?
Original scans of the Lowell Offering above are a combination of images scanned from Archive.org and original books at the Lowell Historical Society and Pollard Memorial Library. You are able to read these stories online as well as through a variety of collected writings available around the City.
For more information about Dickens' visits to Massachusetts, please consier borrowing Dickens and Massachusetts: The Lasting Legacy of the Commonwealth Visits edited by Diana C. Archibald and Joel J. Brattin.