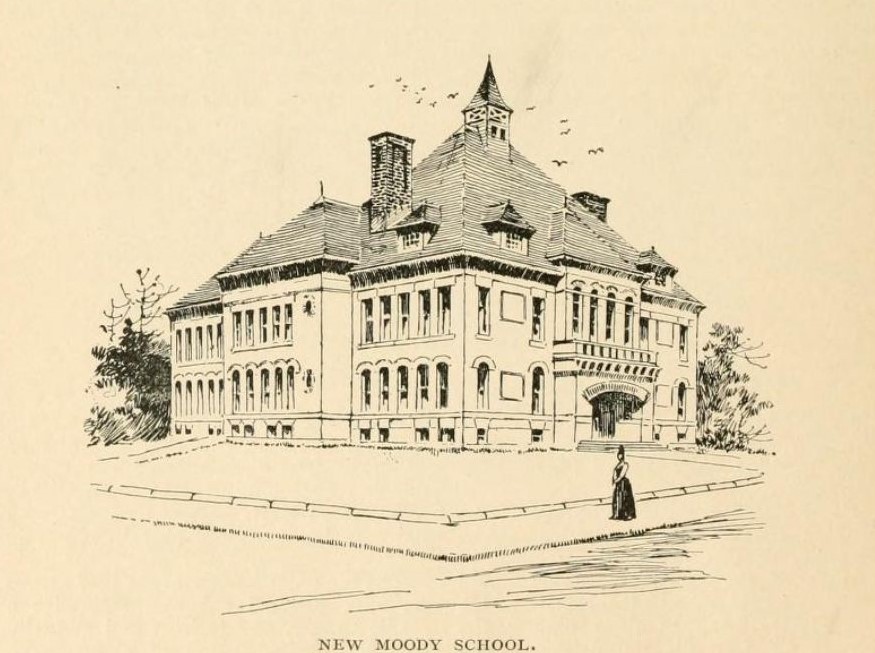 Have you ever wondered who that school is named for? Sure the Butler and Wang schools are easy but what about the Morey? Having a Lowell school named for you is an honor. So let's remember who they are named for.
BAILEY ELEMENTARY SCHOOL – 175 Campbell Drive (PreK-4)
Dedicated in 1992, named for Dr. Gertrude Bailey long time educator and principal of the Lincoln School.
BARTLETT COMMUNITY PARTNERSHIP – 79 Wannalancit Street (PreK-8)
Named for Dr. Elisha Bartlett the first mayor of Lowell. The original Bartlett school was destroyed by a fire on March 11, 1941 and was rebuilt in 1950.
BUTLER MIDDLE SCHOOL – 1140 Gorham Street (5-8)
Named for Benjamin F. Butler, Governor, Attorney, Civil War General. Replaces the old Butler School on 812 Gorham Street.
CARDINAL O'CONNELL EARLY LEARNING CENTER – 21 Carter Street (PreK)
Named for Cardinal William Henry O'Connell of Boston, born in Lowell December 8, 1859.
DALEY MIDDLE SCHOOL – 150 Fleming Street (5-8)
Named for James S. Daley, late track star and teacher dedicated on April 5, 1956.
DR JANICE ADIE DAY SCHOOL – 60 Carlisle Street, Chelmsford (PreK-12)
Named for Dr. Janice Adie, Director of Special Education who retired in 2005.
GREENHALGE ELEMENTARY SCHOOL – 149 Ennell Street (PreK-4)
Named for Frederic T. Greenhalge, Governor, Mayor and poet. Replaces 1906 building.
LAURA LEE THERAPEUTIC DAY SCHOOL – 235 Powell Street (K-8)
Named for Laura Lee a teacher who died on November 12, 1906 at the age of 53. Sister in law of John Murkland who died at Gettysburg.
LeBLANC THERAPEUTIC DAY SCHOOL – 58 Sycamore Street (7-12)
Formerly the Oaklands School. Named for Gerald A LeBlanc, longtime master of the Oaklands School.
LINCOLN ELEMENTARY SCHOOL – 300 Chelmsford Street (PreK-4)
Named for US President Abraham Lincoln.
LOWELL HIGH SCHOOL – 50 Father Morrissette Blvd (9-12)
First public co-ed school in the United States.
McAULIFFE ELEMENTARY SCHOOL – 570 Beacon Street (PreK-4)
Named for S. Christa McAuliffe teacher astronaut from Framingham.
McAVINNUE ELEMENTARY SCHOOL – 131 Mammoth Road (PreK-4)
Replaced the Pawtucketville School at the same site. Dedicated November 10, 1974 and named for Joseph A. McAvinnue, longtime principal of the Pawtucketville school.
MOODY ELEMENTARY SCHOOL – 158 Rogers Street (K-4)
Named for Paul Moody one of the city founders. Built in 1891.
MURKLAND ELEMENTARY SCHOOL – 350 Adams Street (PreK-4)
Named for Charlotte M. Murkland the longtime principal of the Bartlett School.
MOREY ELEMENTARY SCHOOL – 130 Pine Street (K-4)
Named for Charles W. Morey the longtime principal of the Highland School.
PAWTUCKETVILLE MEMORIAL ELEMENTARY SCHOOL – 425 West Meadow Street (PreK-4)
A memorial school for who? Residents of Pawtucketville? Veterans? If anyone knows please tell us.
PYNE ARTS SCHOOL – 145 Boylston Street (PreK-8)
Named for longtime LHS educator Joseph G. Pyne on December 8, 1965.
REILLY ELEMENTARY SCHOOL – 115 Douglas Road (K-4)
Dedicated on September 17, 1959 to Peter W. Reilly, Vice President of Courier Citizen who died April 19, 1927.
ROBINSON MIDDLE SCHOOL – 110 June Street (5-8)
Named for Centralville school proponent Henry Jean Robinson, on the Lowell School Committee for only 14 months before his death. Dedicated June 1970.
SHAUGHNESSY ELEMENTARY SCHOOL – 1158 Gorham Street (PreK-4)
Named for Lt John J Shaughnessy who was killed in action at Normandy during World War II.
STEM ACADEMY AT ROGERS SCHOOL – 43 Highland Street (K-7)
Named for long serving US Congresswoman Edith Nourse Rogers.
STOKLOSA MIDDLE SCHOOL – 560 Broadway (5-8)
Named for Kathryn Philbin Stoklosa a Lowell School Committee member for 24 years who died in 1999.
SULLIVAN MIDDLE SCHOOL – 150 Draper Street (5-8)
Named for longtime principal James F. Sullivan who died in 2006.
THE CAREER ACADEMY -125 Smith Street (9-12)
The Career Academy is housed in the former Hugh J. Molloy Elementary School. Hugh J. Molloy was Superintendent of the Lowell Schools for 21 years. He died in 1933.
WANG MIDDLE SCHOOL – 365 West Meadow Road (5-8)
Named for Dr. An Wang the founder of Lowell based WANG Labs.
WASHINGTON ELEMENTARY SCHOOL – 795 Wilder Street (PreK-4)
Named for George Washington, the first President of the United States.
–